36.69
Size guide
13 available sizes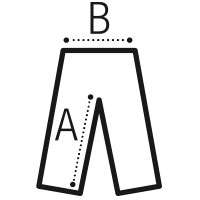 | Sizes | 34 | 36 | 38 | 40 | 42 | 44 | 46 | 48 | 50 | 52 | 54 | 56 | 58 |
| --- | --- | --- | --- | --- | --- | --- | --- | --- | --- | --- | --- | --- | --- |
| A/B | 51/33 | 52/35 | 53/37 | 54/39 | 55/42 | 56/45 | 57/48 | 58/51 | 60/54 | 62/57 | 64/60 | 66/63 | 68/66 |
| US | 4 | 6 | 8 | 10 | 12 | 14 | 16 | 18 | 20 | 22 | 24 | 26 | 28 |
| IT | 38 | 40 | 42 | 44 | 46 | 48 | 50 | 52 | 54 | 56 | 58 | 60 | 62 |
| UK | 6 | 8 | 10 | 12 | 14 | 16 | 18 | 20 | 22 | 24 | 26 | 28 | 30 |
PETA (People for the Ethical Treatment of Animals)
Download the certifications
Description
STRAIGHT SKIRT
Elegant and sophisticated, this above-the-knee straight skirt is infinitely versatile. Combined with a suit jacket or just with a T-shirt, it is comfortable to wear thanks to its elasticated waist.
See technical sheet
A committed product
To guarantee you the best of our values PETA
People for the Ethical Treatment of Animals (PETA) is the largest animal rights organization in the world, and PETA entities have more than 9 million members and supporters globally. PETA-Approved Vegan logo is highlighting clothing, accessories, furniture, and home decor items made of vegan alternatives to animal-derived materials, such as leather, fur, silk, feathers, and bone.
Documents and Downloads
Download product pictures
NEOBLU CONSTANCE
Colour
Download views
Front / Back / Side
309 - Deep black

610 - Anthracite

603 - Night
Download the selection